Ricotta Cavatelli with Shiitake Mushrooms and Edamame
Executive Chef Matt McClure is at it again, this time as the featured restaurant for the Kitchen | Fields Table Tour. His latest work of art is The Hive's ricotta cavatelli pasta with shiitake mushrooms and edamame.
To help educate Arkansans about the impact of the soybean industry, McClure is featuring a twist on their ricotta cavatelli soy good you'll want to make the trip to Bentonville over and over again.
When your taste buds continue to crave this remix after it says "see you later" to the menu, Debbie Arnold with the Arkansas Women Bloggers has you covered. Watch her demonstration on THV11's THV This Morning. Once you think you're ready, read on for the ingredients and directions.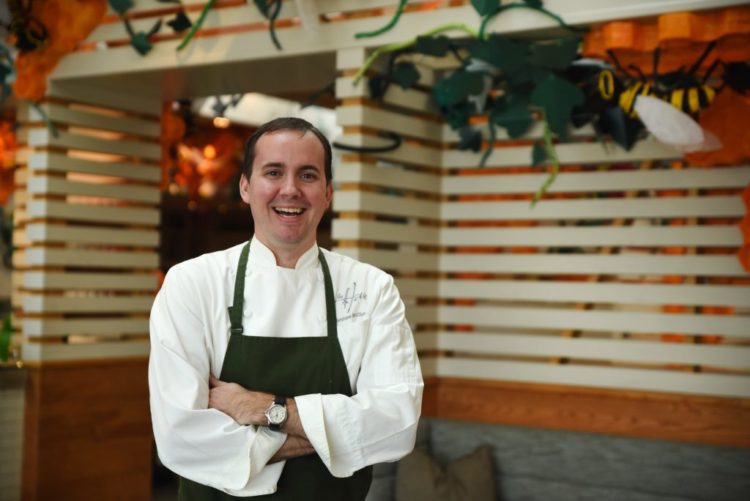 For the 5th year in a row, Executive Chef Matt McClure of The Hive at 21C Museum Hotel in Bentonville has been named a semifinalist for the 2018 James Beard Foundation Restaurant and Chef Awards. The JBF awards are considered the most prestigious of their kind.
McClure is nominated in the category Best Chef: South. He was born and raised in Little Rock, Arkansas, where hunting, fishing and his grandmother's cooking ignited his passion for food. At The Hive, McClure showcases the refined, country cuisine of the High South, focusing on the ingredients of Northwest Arkansas and the region's traditional methods of cooking.
His Ricotta Cavatelli with Shitake Mushrooms and Edamame is a featured dish on the Arkansas Soybean Board's Kitchen|Fields Table Tour 2018. The KFTT is just one of the ways Arkansas celebrates the contributions of the soybean industry to the economy of our state. Not only are soybeans readily available as dried beans, they are easily found as edamame in the frozen food section of markets everywhere. 
The Arkansas Farm Bureau reports that soybeans and soybean products are Arkansas's largest agricultural exports.  Arkansas currently ranks 10th in the nation in soybean production, producing more than 150 million bushels annually valued at more than $1.5 billion. (http://www.arfb.com/pages/arkansas-agriculture/commodity-corner/soybean/)
According to Atli Anarson at Healthline, one cup (172 grams) of boiled soybeans boasts around 29 grams of protein. Like meat, soybeans contain all the essential building blocks, or amino acids, in amounts we need for health. While higher in fat than other legumes, it is mostly good fat. Plus, soybeans are cholesterol free.
During this month's focus on heart health, we should remember replacing high-fat animal foods and dairy products with soy foods can be heart healthy. Small decreases in LDL cholesterol are found by eating at least 20 grams of soy protein daily. (https://www.dietitians.ca/Your-Health/Nutrition-A-Z/Soy/Health-Benefits-of-Soy.aspx)
If you have the time, talent and equipment, make your own cavatelli. If you're not so inclined, however, you can certainly purchase it fresh or frozen just like I did. It's okay. Your dish is still going to be delicious and impressive. While I ordered mine from Amazon Prime, you could substitute mini risotto or penne if you like. You need a short tubular pasta that will carry the sauce.
I fell in serious like with this dish some time ago, and only sheer willpower kept me from absolutely licking the bowl. It's light but carries such a deeply rich flavor, Simple in ingredients, it is easily made at home and is sure to become a new favorite at your house. Pasta + mushrooms + edamame = some of my most favorite ingredients. And then it gets a dusting of freshly grated parmesan.
Uh huh! delicious!
If you've had the privilege of dining at The Hive, you don't need convincing to make a return trip. For those of you who have not, well get yourself there soon! Right in the heart of downtown Bentonville, AR, The HIve is the gateway to the world-class Crystal Bridges Museum of American Art. Food and art—what more do you need?
Like many chefs, McClure's recipes are either in his head or only written down in a "skeleton" fashion. I have adapted his recipe to what I hope are terms for the home cook. I confess to ordering fresh, frozen cavatelli online. (Our little secret, right?)
For more on The Hive and Ricotta Cavatelli, check out nwafoodie's post: HERE
Matt McClure's Cavatelli with Porcini and Edamame (adapted)
Ingredients
Mushroom Stock
1-quart shiitake mushrooms, stems removed and set aside
1 cube mushroom bouillon, optional
1 onion, quartered
3 quarts water
Roasted Shiitake Mushrooms
1-quart shitake caps
1/4 cup Riceland Rice Bran Oil or canola oil
Salt to taste
2 sprigs fresh thyme
Edamame
1 10-ounce package fresh frozen, shelled edamame
1 quart salted boiling water
1 quart salted ice water
Cavatelli (for freshly prepared) May also be purchased fresh or frozen.
4 cups all-purpose flour
1 egg
1 pound full-fat ricotta cheese
1 teaspoon salt
1/3 cup heavy cream
Final Preparation for 4 servings
6-8 Tablespoons unsalted butter
1 10-ounce package fresh frozen shelled edamame, blanched as directed (more or less as desired)
1 cup mushroom stock
1/4 cup minced fresh flat-leaf parsley
1 cup roasted mushrooms
1 pound fresh or frozen ricotta cavatelli, prepared according to package directions
1/2 - 1 Tablespoon Marash chile (substitute Aleppo pepper)
Squeeze of fresh lemon juice
Salt and pepper to taste
Shaved parmesan, as garnish
Instructions
Homemade Cavatelli
In a large bowl, add flour. Make a well in the center.
Add remaining ingredients into the well; stir until dough comes together.
Place dough on a well-floured surface; knead 2-3 minutes until smooth.
Cover dough with plastic wrap or a damp cloth. Allow dough to rest for 15 minutes. This rest period is needed to allow gluten to rest and the correct texture to be achieved.)
(Dough may be wrapped and refrigerated until needed.)
When ready to prepare cavatelli, cut dough in half. Place one half on a lightly floured surface and roll to a thickness of about 1/3 inch.
Cut into strips about 1/2 - 3/4-inch in width.
Flour strips well. Using one hand, pass strip through wooden cavatelli rollers, turning the crank clockwise with the other hand. (There are single paddle cavatelli rollers as well as automated cavatelli rollers available. You can also purchase fresh, frozen ricotta [cavatelli|https://www.amazon.com/dp/B00XJJ0E14/_encoding=UTF8?coliid=I2A46OU4IU1RMZ&colid=1OGPK8KEMEVHN&psc=0} like I did. )
Place the cut cavatelli onto a lightly floured baking sheet and refrigerate or freeze until ready to use.
In a large pot of boiling, salted water, cook cavatelli for about 5-7 minutes until they rise to the surface. (Cavatelli should be al dente as they will continue to cook during the final phase.)
Drain well; set aside.
Mushroom Stock
Preheat oven to 350 degrees.
Place mushroom stems on a baking sheet and cook until lightly roasted (about 15 - 20 minutes).
In a medium saucepan, bring 3 quarts of water, roasted mushroom stems and quartered onion to a boil; reduce heat to a simmer and cook for 30 minutes. (Alternatively, place mushrooms, mushroom bouillon, water and onion in a small slow cooker and cook 6-8 hours on HIGH.)
Remove from heat and strain; cool. (Mushroom stock may be prepared a day ahead.)
Roasted Shiitake Mushrooms
Preheat oven to 350 degrees.
Place quartered shitakes on a baking sheet and toss with oil (garlic-infused optional), salt and thyme.
Roast 15-20 minutes, stirring occasionally, until mushrooms are golden brown. Set aside.
Edamame
Bring a medium saucepan of salted water to boil
Add in edamame and blanch in boiling water for 7 minutes.
Strain edamame in a sieve and place in ice water until cooled. Strain.
To assemble
In a large sauté pan, unsalted butter, mushroom stock, roasted mushrooms and edamame. Bring to a simmer to reduce and thicken.
Add cooked cavatelli to sauté pan; season with salt, pepper, minced parsley, Marash chile and lemon juice.
Place in serving bowl and garnish with shaved Parmesan.
#ARSoyStory #ARSoySupper
I'm working on my cavatelli-making skills using this method: